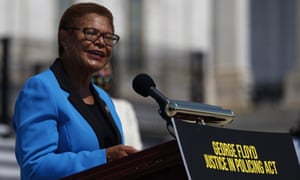 15:05
And no sooner has Karen Bass emerged as a frontrunner for Biden's vice-presidential pick than stories, probably not discouraged by her rivals, bubble to the surface. Rightwing website the Daily Caller reports that Bass praised Scientology for its "commitment…to make a difference" during the opening of a Scientology building in California in 2010.
During the ceremony Bass also praised Scientology founder L Ron Hubbard for his belief that "all people of whatever race, color or creed, are created with equal rights".
Scientology has come under intense scrutiny after claims of physical, psychological and sexual abuse against its followers, accusations detailed in documentaries such as Going Clear by Alex Gibney, which focused on former members of the church.
The Church of Scientology denies the allegations of abuse and mistreatment among its ranks.

14:37
Good morning. As November's election approaches speculation over who Joe Biden will pick as his running mate mounts. The presumptive Democratic candidate for president has promised he will pick a woman as his running mate and his list of candidates is beginning to narrow.
CNN reports that 11 candidates are in the running. Kamala Harris remains the oddsmakers' favourite, and Biden was seen holding a list with her name and handwritten notes about the California senator on it.
However, in recent days, Karen Bass, congresswoman and chair of the Congressional Black Caucus, has emerged as a frontrunner, and Politico reports that members of Harris's team requested a meeting with Biden after learning their candidate was not a shoo-in for the VP slot. Harris is reported to have suffered after not showing contrition for remarks she made last year that appeared to depict Biden as racially insensitive.
Biden was supposed to name his running mate next week, but Politico reports the selection is now more likely to be announced in mid-August.
Other names in the running who have been vetted by Biden's team include Senators Elizabeth Warren and Tammy Duckworth; Florida congresswoman Val Demings; Atlanta mayor Keisha Lance Bottoms; and governors Gretchen Whitmer and Michelle Lujan Grisham.
Ed Rendell, the former governor of Pennsylvania and a Biden supporter, told CNN that Bass is seen as a safer choice than Harris.
"Kamala can rub some people the wrong way. Karen Bass is not likely to do that," Rendell said. "The number one rule for picking the VP? Do no harm."
One outside candidate gaining some momentum is Susan Rice, Barack Obama's former national security adviser. Although she lacks the campaigning experience of Bass and Harris, she worked with Biden during his own time as vice-president and has vast experience in global relations, which could prove invaluable during a time of turmoil around the world.
"If there ever was a time to pick someone without campaign experience, this would be the year," a former member of Obama's administration who has worked closely with Rice told CNN. "Susan would be the best governing partner."
Updated