14:45




Multiple candidate vaccines rapidly under development in US – Fauci





14:30




Clyburn: coronavirus is 'raging out of control'





14:22




Clyburn: 'Our nation is in the midst of a public health catastrophe'





14:17




Coronavirus hearing on Capitol Hill gets underway





13:59




Key coronavirus hearing on Capitol Hill





13:36




Poll: Two-thirds of Americans continue to disapprove of Trump's handling of coronavirus crisis





13:12




Marine killed, eight others missing, in training accident off California coast

14:45
Multiple candidate vaccines rapidly under development in US – Fauci
Public health expert Anthony Fauci says the US government has standardized and coordinated research around the efforts to develop a safe and effective vaccine to combat coronavirus.
He called Covid-19 "a terrible scourge". He added there are "multiple candidate vaccines that are moving along at a rapid pace". He spoke of the federal overview of the process of testing in order to ensure the various parties "learn from each other".

14:40
Representative Steve Scalise, the ranking (most senior) Republican on this special coronavirus committee, is on his opening statement and said: "The Chinese Community Party lied to the world" about the seriousness of Covid-19 when the coronavirus broke out in Wuhan, China, at the turn of the year.
A quick update for our readers, the other witnesses, Robert Redfield and Brett Giroir, are at the hearing in person after all. There was a delay in their arrival.
The witnesses were just sworn in and Anthony Fauci, who has served six presidents as Director of the National Institute of Allergy and Infectious Diseases since 1984, has taken off his mask to deliver his opening statement.
The witnesses are sitting at a distance from each other and the hearing room is thinly populated, with many who would normally be there tuning in remotely.

14:30
Clyburn: coronavirus is 'raging out of control'
House hearing chairman James Clyburn is on a scorcher of an opening statement.
He said that coronavirus is "raging out of control" in the US, while the White House has been "sidelining" its public health and science experts.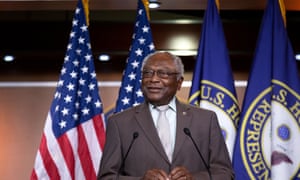 "We do not need to lose another 150,000 American lives" but says without urgent action it is "well within the realm of possibility".
Clyburn pointed out that when the CDC recently devised guidelines on the tight measures needed to carefully reopen schools at the end of the summer break, "The White House pressured the agency to change their advice" to encourage full reopening for in-person teaching.
"The result is that the virus is raging out of control and our nation's economic misery continues," he said.
Clyburn called on the Trump administration immediately to come out with "a national plan that prioritizes science over politics".
Updated


14:22
Clyburn: 'Our nation is in the midst of a public health catastrophe'
Hearing chairman James Clyburn has opened the hearing with a scorching fact.
"Our nation is in the midst of a public health catastrophe".
As the US death toll has now reached 152,075 and there are almost 4.5 million confirmed cases in the nation, Clyburn said the level of death and hospitalizations is "unacceptable".
He slammed the Trump administration saying the government had "still not developed and implemented a national strategy to protect the American people", after more than six months of the outbreak.
Updated


14:17
Coronavirus hearing on Capitol Hill gets underway
The chairman of this House special committee is Representative James Clyburn.
You may recall the member for South Carolina was pivotal in Democrat Joe Biden pulling ahead of Bernie Sanders in the primaries earlier this year, to sweep Super Tuesday and go on to become the presumptive nominee.
The committee is rumbling into action, some tech issues there this morning. Fauci is there in person, looks like Redfield and Giroir are attempting to tune in remotely.
Buckle up.
Here's my colleague Daniel Strauss on Clyburn and that moment.

14:09
The top US infectious disease expert and leading medic on the White House coronavirus task force, Anthony Fauci, told CNN last night that the nation needs to "pull out all the stops" to curtail the Covid-19 pandemic.
He said that if we do we will be getting towards having coronavirus under control in America. "If we do not we cannot make a prediction about how long this will last."
The hearing this morning, which is running a few minutes behind (though Fauci is in place, in his Washington Nationals baseball mask, ready to testify), is a session of the House select subcommittee on the coronavirus crisis.
The title today is: The Urgent Need for a National Plan to Contain the Coronavirus.
Indeed.
Here's my colleague David Smith's take on "testing tsar" Brett Giroir, who will be testifying alongside Fauci and Robert Redfield, director of the US Centers for Disease Control and Prevention (CDC).
Updated


13:59
Key coronavirus hearing on Capitol Hill
This is Joanna Walters in New York taking over from my colleague Martin Belam in London. We're awaiting the start of the latest coronavirus hearing in Washington at the top of the hour. Fauci, Redfield, Giroir. Stay tuned!

13:53
Etan Thomas has written for us today, to say that words are not enough, and that sports team CEOs must use their influence to effect change. He argues that it is their money that they can use to bring about change, rather than graciously allowing players to wear slogans on their uniforms or make gestures before games.



Can these teams and their billionaire CEOs use their power and influence to bring about tangible change beyond statements of support and solidarity? What if NBA CEOs took proactive roles in their respective cities and pressured police departments to move toward specific reforms and more accountability? It's not as if men such as Mark Cuban in Dallas or Micky Arison in Miami are lacking in clout in the cities where their teams play. They are billionaires. What if they followed the recent example of FedEx [who pressured Dan Snyder to change the Washington NFL team's name], which showed the power of money when it comes to combatting racism.
Read it here: Etan Thomas – Words aren't enough. Sports team CEOs must use their influence to effect change

13:36
Poll: Two-thirds of Americans continue to disapprove of Trump's handling of coronavirus crisis
A new ABC News/Ipsos Poll is out this morning, based on interviews conducted on the 29 July and 30 July, and it delivers a triple-blow to Donald Trump's administration over Covid-19, Russia and Black Lives Matter.
Two-thirds of Americans continue to disapprove of the way Trump is handling the response to the coronavirus. On top of that, 63% of Americans disapprove of the way Trump is handling relations with Russia, and 64% disapprove of the way Donald Trump is handling the response to protests happening across the country.
Even parts of the electorate where you might assume Trump would still have support are turning against him. Older Americans, for example, rate the president's handling of the protests better, but even then a majority (54%) disapprove.
Only Republican supporters and white people without a college degree are more likely to say the presence of federal law enforcement officers at protests, sent in by Trump, have made the situation in America's cities better.
Read it here: Ipsos – Americans believe federal law enforcement presence at protests is making the situation worse

13:26
Chris McGreal has been in Portland for us, where, after weeks of heated confrontations, in the absence of federal officers, last night's protest passed off without major incident.



In the absence of confrontation, and with the state police remaining largely unseen inside the courthouse, tensions quickly eased. Without the federal forces to draw attention, protest organisers kept the focus on Black Lives Matters and reform of the Portland police. Some in the crowd worked to avoid trouble by stopping demonstrators from lighting fires and shooting fireworks at the courthouse as they had done on previous nights. Dan Thomas, an African American man, stood in the street shouting at people not to cause a confrontation with the state police. "Attacking the federal building is not Black Lives Matter. Leave it alone. You're playing into Trump's hands," he said.
Read it here: Portland sees peaceful night of protests following withdrawal of federal troops

13:12
Marine killed, eight others missing, in training accident off California coast
A US marine has died, two have been injured and eight others are missing after a "tragic incident" involving an assault amphibious vehicle (AAV) off the coast of California on Thursday, the US Marine Corps have said.
"We are deeply saddened by this tragic incident. I ask that you keep our Marines, sailors and their families in your prayers as we continue our search," Colonel Christopher Bronzi, commanding officer of the 15th Marine Expeditionary Unit, said on Twitter.
There has been no further official explanation of what has happened, although local reports suggest that "Marines in the AAV reported that the vehicle began to take on water during a routine exercise at approximately 5:45 p.m. Thursday evening."

12:56
NBC News are reporting this morning on the efforts of more than 500 State Department employees to resist being sent back to work in-person while they still feel they are at an unacceptably high risk of catching coronavirus. The move comes after an employee who works near secretary of state Mike Pompeo's office tested positive.
On Monday, the State Department told employees it would be moving to having offices at 80% occupancy. The staff, however, contend that the department has failed to follow its own safety guidelines about reopening, having moved to working from home during the coronavirus outbreak.
NBC News says that it obtained access to the document and that more than 540 employees had signed it.
Read it here: NBC News – Diplomats plead with State Department not to rush return to offices

12:37
Jamelle Bouie has written for the New York Times this morning a piece in the wake of the death of Rep. John Lewis, titled "Trump doesn't know what democracy is. John Lewis embodied it"
In it he harks back to American philosopher and psychologist John Dewey's 1888 essay on the ethics of democracy, drawing a stark contrast between the ideals that democracy strives for, and the way it is currently implemented in the Trump administration. Bouie concludes, though, that despite the president's threat yesterday to the conduct of November's election, it is the people that will win out. He writes:



While many of our institutions have not been up to the task of confronting Trump, our democracy, meaning individuals and communities and civil society, has. Protest put Trump on the defensive in the days after he took office; protest drew attention to his abuses at the border; and protest over the last three months has helped galvanized many millions more against him. If Trump is defeated, and if he does leave office, it will be because Americans understood, and took seriously, the idea that democracy is a way of living as much as it is a form of government, that it is, as Lewis told us, an act and not a state.
It's worth a couple of minutes of your time: Jamelle Bouie – Trump doesn't know what democracy is. John Lewis embodied it

12:18
Associated Press are reporting that an aide to Montana Democratic Gov. Steve Bullock's senate campaign was fired yesterday after a history of racist, sexist and homophobic tweets surfaced.
Evan McCullers, who joined the Bullock campaign in June as deputy press secretary, sent a series of offensive tweets between 2012 and 2014, when he was in high school and college.
"The tweets are inappropriate and do not reflect Montana values. When we learned about them, he was let go," said Olivia Bercow, the campaign's communications director, in a statement.
The tweets included derogatory language about Black people, women, homosexuality. In a statement released by the campaign, McCullers apologized for his tweets, calling them "vile, inappropriate and unacceptable."
"I especially owe an apology to the women, people of color and members of the LGBTQ+ community that these posts have rightly offended, and to my family and others who will receive undeserved negative attention because of my actions," McCullers said in a statement.
"More importantly, I will continue to listen to those with different life experiences than mine and learn from my mistakes that cause others pain I could never understand, just as I have in the years since those hurtful words."

12:07
Yesterday Secretary of state Mike Pompeo was up in front of the Senate, where as well as getting a grilling, he had an opportunity to give a wide brief on American foreign policy, which inevitably included criticism of China and Iran. It was always unlikely that this would pass without a response.
Reuters are reporting that this morning Iran's Supreme Leader, Ayatollah Ali Khamenei, has attacked the US in his televised speech marking the Muslim religious holiday of Eid al-Adha.
Khamenei called the US Iran's "main enemy", and urged Iranians to resist US pressure. He ruled out negotiations with Washington, saying Donald Trump would use talks for propaganda as he did with North Korean leader Kim Jong Un.
"At the negotiating table, America wants us to abandon our nuclear industry altogether, reduce our defence capabilities and relinquish our regional influence," he said.
He also accused the US of trying to stir anti-government protests.
"Their short-term goal was to make our people so fed up and tired that they would stand up against the system. Their long-term aim is to bankrupt the country, the state, in other words to make the economy collapse."

11:58
This morning we have an incredibly powerful piece first-person piece from Thomas Owen Baker. The title says it all: As a cop, I killed someone. Then I found out it happens more often than we know



I started to have bad dreams and anxiety. I was hyper-vigilant bordering on paranoid. I made things worse by self-medicating with Captain Morgan after my shifts ended. I gained more than 60 pounds. I continued to work hard and produce the type of results expected of me, but something had changed. I started to question the idea of individual culpability. As I investigated burglaries, robberies and homicides, interviewing thousands of suspects over the years, it became clear that a myriad of social forces drove people to behave the way they did. The man I'd killed wasn't completely autonomous but also a product of an environment we'd all contributed in creating.
In it Baker discusses how his initial feelings about taking a life while on duty turned into a life of trying to measure and understand just what is happening with police-involved fatalities in the US. It is well worth a read.

11:39
Good morning, here's our live coverage of US politics, the Black Lives Matter protest movement and the coronavirus crisis for the day. Here's a catch-up on where we are, and what we can expect from Friday
Yesterday the US reported more than 1,000 coronavirus fatalities for the fourth consecutive day. The total number of cases nationwide increased by more 67,000
Republicans took no action to extend federal unemployment benefits before the Senate adjourned. As a result, as many as 30 million Americans will see their incomes drop as the $600 expansion disappears. The country's economy just suffered its sharpest contraction since the second world war
Dr. Anthony Fauci will be among health experts testifying this morning in a hybrid session of the Select subcommittee on coronavirus crisis. The title of the session is "The urgent need for a national plan to contain the coronavirus"
There's anger after St Louis county officials announced that the police officer who fatally shot Michael Brown in Ferguson, Missouri will not face charges
Donald Trump's tweet about delaying the election – which he can't do – got short shrift from fellow Republicans
Press secretary Kayleigh McEnany is holding a briefing this morning. Trump is meeting the National Association of Police Organizations Leadership, and then later on is out and about in Florida where he will be talking about the Covid-19 response and attending a fundraiser
You get in touch with me at [email protected], I'll be here for the next couple of hours
Updated