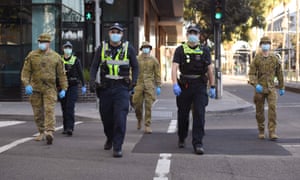 00:31




China sends Covid-19 testing team to Hong Kong, prompting surveillance fears





00:21




Greater Manchester declares major incident after rise in Covid-19 cases





00:11




Summary

00:44
The British love affair with home crafting shows no sign of abating, according to Hobbycraft, which has reported a 200% boom in online sales since the Covid-19 pandemic began.
Hobbycraft, whose bestsellers include a giant set of 1,000 craft pieces for £6 and soap-making kits for £15, said there had been "exceptional levels of customer demand" during lockdown as customers confined to their homes looked to find their inner craftsperson.
It is moving its popular craft demonstrations and workshops online as part of its adjustment to the post-coronavirus world.
The company, which has 99 stores on high streets and retail parks including five that opened last year, said total revenue increased by 8.9% to £193.6m for the year ending 16 February – before the Covid-19 crisis. Online sales grew by 19% over the same period:

00:31
China sends Covid-19 testing team to Hong Kong, prompting surveillance fears

00:21
Greater Manchester declares major incident after rise in Covid-19 cases
A major incident has been declared in Greater Manchester in response to increases in coronavirus infection rates across "multiple localities".
The decision to up the readiness of emergency and public services to react to the escalating Covid-19 transmission rate in the region comes after the government announced new lockdown restrictions for parts of north-west England on Thursday.
Gold command meetings of senior figures from the police, local authorities and other agencies to discuss the pandemic have been taking place over the weekend.
Major incidents are often declared as a result of a terror attack or natural disaster and mean a region can access extra national resources if necessary, with the police able to draft in the army if they need support: